Chuga Choo Choo! - Model Train Shows Around NJ & NY
Trains are amazing! Did you know that trains were the catalyst in revolutionizing America? It was the First Transcontinental Railroad built in the 1860's that traveled across North America, connecting California to the Eastern US, and which linked everything in between. They connected rivers to towns, and cities to cities. Not only were they an integral part of starting America's Industrial Revolution, they are still a large and vital part of the nation's transportation network, transporting cargo, lumber, cars, and people everywhere. Bedazzle your kids and take them to learn about the history of these trains at model train shows in the New Jersey and New York area. Plus, you may bump into Santa at some of them!
MODEL TRAIN SHOW
NY Society of Model Engineers
341 Hoboken Rd, Carlstadt NJ (1 mile from Giants Stadium) modelengineers.org
November 18-19, 24-26, 2017; December 2-3, 2017, 1-6PM
All aboard! Spectacular holiday model train show showcasing models trains.

MODEL RAILROAD CLUB 2017 ANNUAL LIGHT AND SOUND SHOW
295 Jefferson Ave, Union NJ, 908-964-9724
November 24,25,26, 2017; December 1,2,3,8,9,10, 2017
Annual Light and Sound Show and open house. The club's HO scale layout is transformed into a theatre and the trains run to a professional narrated script. Event enjoyed by thousands of guests every year.

59TH ANNUAL MODEL RAILROAD SHOW
Garden State Model Railway Club, 575 High Mountain Road, North Haledon.
November 24- 26, 2017; December 2-3, 9-10, 2017; January 6-7, 2018, 1-5PM all days
Great model railroad show featuring intermodal, mixed freight, coal & passenger trains - both steam & diesel. Kids can view a Special Santa Claus Express train from a Grand Stand platform.

CAMDEN CHILDREN'S GARDEN TRAIN CELEBRATION
3 Riverside Dr, Camden NJ, 856-365-8733
November 11, 2017 1-4PM
The Camden Children's Garden salutes a nostalgic favorite – Trains! Join them for train themed crafts, games, and fun railroad stories.

CHRISTMAS EXPRESS WITH SANTA CLAUS
NJ Museum of Transportation, Allaire State Park, 4265 Atlantic Ave, Farmingdale NJ, 732-938-5524
November 24-26 2017, December 2-3, 9-10,16-17, 2017
Ride with Santa Claus on beautifully decorated trains. Santa talks to every child on the train.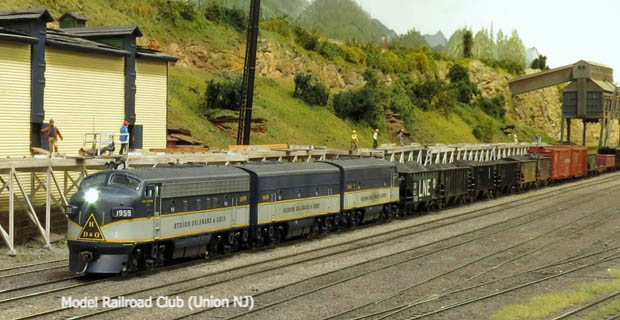 HOLIDAY MODEL TRAIN SHOW 2017
Barron Arts Center
582 Rahway Avenue, Woodbridge NJ, 732-634-0413
November 25, 2017-December 30, 2017 (Closed Dec 25)
FREE. Holiday model train show - fun for the whole family.

HOLIDAY TRAIN SHOW AT GRAND CENTRAL TERMINAL
November 13, 2017-February 11, 2018, Daily 6AM-8PM
FREE. Annual New York Transit Museum train show. Marvel at model trains traveling through a mini NYC. Visitors go on an imaginary journey from Grand Central to the North.

NEW YORK BOTANICAL GARDEN TRAIN SHOW
2900 Southern Blvd, Bronx, NY, 718-817-8700
November 22, 2017-January 15, 2018
Dozens and dozens of trains glide through models of NYC landmarks and beautifully landscaped backgrounds. Showcasing Midtown Manhattan this year with iconic skyscrapers and architectural wonders.

THE POLAR EXPRESS TRAIN RIDE AT WHIPPANY RAILWAY
1 Railroad Plaza, Whippany NJ, 973-887-8177
November 18, 2017-December 31, 2017
Bring the whole family! Relive the magic of the classic holiday story Polar Express on a one-hour train ride to the North Pole. Santa and his helpers will be aboard. Hot chocolate and a cookie will be served.