2015 Edison Earth Day Celebration
Posted by: Sarah Graves - March 11, 2015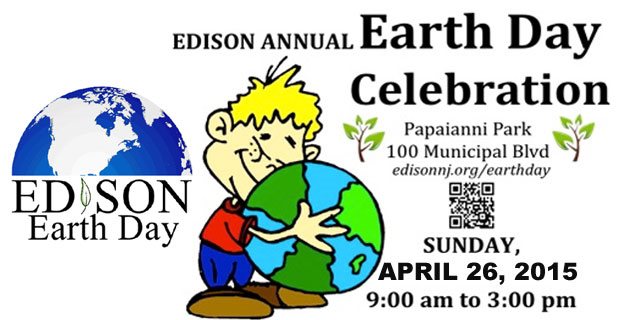 Sunday, April 26, 2015, from 9:00 AM to 3:00 PM. The outdoor, day-event will be staged at Papaianni Park, located at 100 Municipal Boulevard, Edison, NJ 08817 (Rain Date: May 3, 2015).
An opening address shall be made by a representative of the Honorable Mayor Thomas Lankey, followed by statements from other elected officials and dignitaries. A number of green/sustainable Presenters, Exhibitors, Vendors and Speakers are also planned. Event activities shall include: Volunteer Plantings, Site Cleaning, Organic Debris Consolidation and many other Green/Sustainable Actions; On-Site Air/Soil/Water Environmental Testing; Central Jersey Bicycle Association (CJBA) Bike Ride. Food will be available to purchase on-site.
Since 2011 Edison Earth Day Celebrations have drawn approximately 3,100 visitors and participants, en total. This year (4/26/15) 1,200+ visitors and participants are anticipated, including numerous presenters and vendors. Food will be available to purchase on-site.
A website for 2015 EEDC has been established at: www.EdisonNJ.org/earthday. Also, a QR Cube has been added to 2015 EEDC fliers with links to event information for iPhone users.
As with prior Edison Earth Day Celebrations, the event shall be video-recorded, edited and broadcasted by award-winning Edison TV to 100,000 cable television-viewing households throughout the Edison/Greater Edison area.
Edison Clean Communities Program will provide free, re-usable water bottles, as well as sponsor the portable rest facilities at the event. Also, free, re-usable shopping bags shall be presented to event Sponsors, Volunteers, Presenters, Vendors, Speakers and Invited Dignitaries, as well as the first 150 Visitors. Additionally, Volunteers will participate in assisting event Set-Ups, as well as Clearing and Cleaning the Site, before and after the 2015 EEDC.
Ample parking will be available for event participants and visitors. For more information as to event attendance, volunteer/vendor/presenter participation and/or sponsorship, please contact Chris Mazauskas, Resource Development Officer, Dept. of Administration at 732-248-7356 (Office Telephone), 732-287-6679 (Office Fax) and/or cmazauskas@edisonnj.org (E-mail).
Earth Day is intended to inspire awareness and appreciation for the Earth's natural environment. Earth Day was founded by United States Senator Gaylord Nelson as an environmental teach-in first held on April 22, 1970, with the participation of over 20 million people. It was created by him in response to widespread environmental degradation. While the first Earth Day was focused on the United States, an organization launched by Denis Hayes (the original, National Coordinator, during 1970), took it international in 1990 and organized events in 141 nations. Earth Day is now coordinated globally by the Earth Day Network, and is celebrated in more than 175 countries every year by more than 500 million people. Numerous communities celebrate Earth Week, an entire week of activities focused on environmental issues.
Back To Top
---
Posted by:
Sarah Graves
|
March 11, 2015